About
Whatever your exterior needs, Metro Reconstruction services has your solution.
Metro Reconstruction Services, Inc. is family owned, dedicated to quality service, and since 1982 has been committed to providing outstanding results throughout the Front Range and Mountain Communities, (from Southern Colorado to Fort Collins as well as all Mountain communities, including Aspen, Breckenridge, Silverthorne, Vail, and Steamboat).
From the concrete to the roof, they are experts in all exterior renovation.
Metro Reconstruction Services, Inc. is built on a foundation of professional and courteous service, a commitment to quality, and an ethical code of understanding and knowledge in their areas of specialty. They have a vast amount of experience from small projects to multi-million dollar contracts.
Metro Reconstruction Services, Inc. is well established as an industry leader in the specialties of reconstruction, stucco, windows, woodpecker solutions and moisture control. They will work with you to understand your needs, provide innovative solutions, and add value by mitigating risk, increasing efficiency and minimizing waste.
Services Offered:
---
Stucco & EIFS
Roof Replacement and Installation
Moisture Issues
Woodpecker Solutions
Waterproofing Solutions & Caulking
Removal & Replacement of All poorly installed System
High-End Replacement Windows
New Deck design & Installation
Concrete
Stone
Project Management
General Contracting
Dock Installation & Replacement
Outdoor Living Design, Installation & Replacement
High-End Remodels
Metro Reconstruction Services, Inc. Rating: 5

Sep 09, 2019
This company did an outstanding job. Our home was 52 years old with wood siding. Metro refinished the entire house with stucco and it […]
Jun 07, 2019
Our home took a beating during a hailstorm. We met with company from out of state and I just got a weird feeling from […]
May 28, 2019
Metro Reconstruction was a great company to work with. Their staff was easy to work with and were very helpful. I would definitely recommend […]
May 28, 2019
We had a pesky neighborhood woodpecker who loved our house. Metro was able to give us options for making a repair vs making our […]
Jun 13, 2019
As I tenant finish GC I've used Metro Reconstruction on several exterior projects that are outside of our scope. They've always been fast […]
---
Offers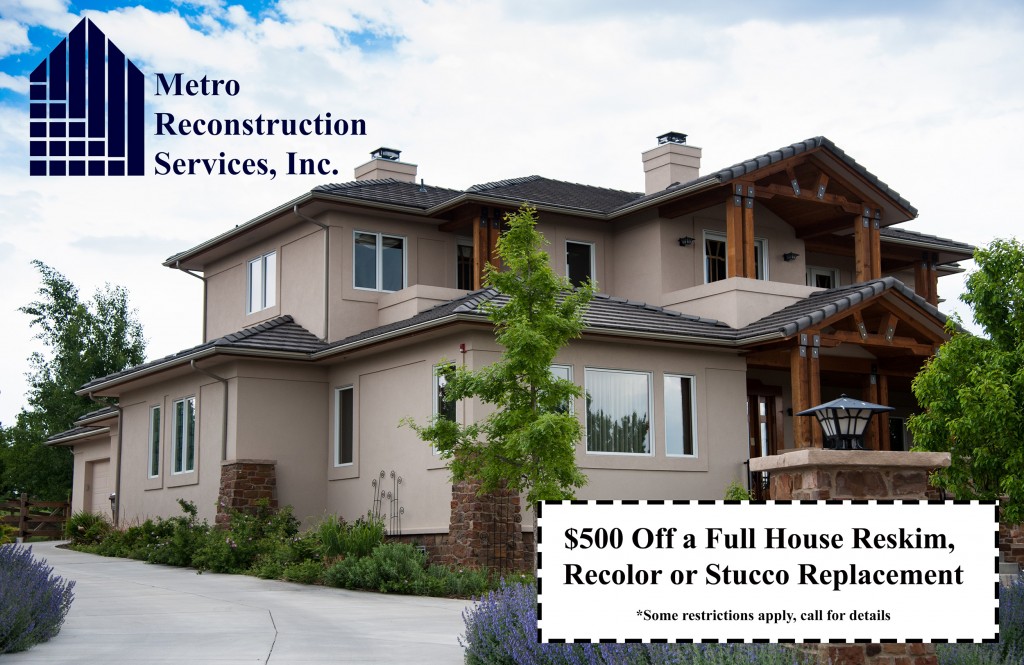 Send to a Friend
Recommend this listing to a friend: