About
Ken Caryl Glass has been serving the Denver Metro Area since August 1984. They have made it their goal as a glass company in Colorado Springs and Littleton, CO to provide unparalleled customer service at an affordable price.
They credit their success to their dedication to providing their customers with individualized, top-quality attention. While they started as a two-man, one-vehicle ship, they now boast more than 145 employees, 60 vehicles, 2 forklifts, 3 scissor lifts and 5 boom lifts. Now they're able to help more customers like you every day.
Since they started more than 30 years ago, they've moved once and opened a second location in Colorado Springs.
Safety is king at Ken Caryl Glass, Inc. They employ a full-time, OSHA-trained safety department to ensure a safe work environment. They also train all of their employees in the latest safety practices. Their full service mechanic works hard to make sure their equipment is in top operating condition at all times.
As the Rocky Mountain region's premier glass company, Ken Caryl Glass listens to the needs of their customers. They couple experience with innovation to stay on top of industry trends and provide their customers with unmatched products and customer service.
Call them today to experience the Ken Caryl Difference!
Services Offered:
---
Glass replacement
Solar control window films
Window screens
Safety glass
Aluminum storefront systems
Patio doors
Framed and frameless shower doors
Decorative glass
Curtain wall systems
Bullet-resistant glass
Ken Caryl Glass, Inc. Rating: 4.2

May 09, 2023
We had to replace our front door of our business. Dwayne and his crew were absolutely amazing!!! Very friendly, professional and Dwayne went out […]
Aug 22, 2023
I've been building for 40years. I've been using Ken Karyl Glass since 2018 and have to say these guys are the best. From the […]
Sep 05, 2023
HUGE discrepancy with information given over the phone with what is given in person when measurement is done. Almost double the price (measurements and […]
Mar 14, 2023
I used to get some professional windows and such from here. Not anymore. Go elsewhere I know I will. […]
Apr 05, 2023
We called them to come do a simple adjustment on a frameless glass shower door. The job should have taken 30 minutes to […]
---
Offers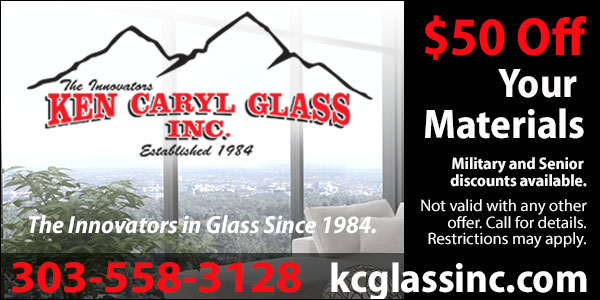 Send to a Friend
Recommend this listing to a friend: