About
Fix-It 24/7 is committed to giving you the professional service you need anytime day or night. While other Denver plumbers may offer 24/7 scheduling, Fix-it 24/7 offers 24/7 scheduling AND service. Our pros are ready to show up at your home or business whenever you need us. In fact, we offer a guaranteed 2-hour service window. No more waiting around half a day for your technician to show up! You can go about your day with minimal inconvenience.
Get to know our team and our plumbing, heating, and cooling services in greater detail. Contact us today for your Denver metro area home repairs and installations.
They proudly serve the entire Denver Metro Area!  Call them today and see why they were chosen by TeamDaveLogan.com.
Services Offered:
---
Air Conditioning Installation & Repair
Air Conditioning Inspection & Maintenance
Thermostat Installation & Repair
Forced Air System Installation & Repair
Duct Work Inspection & Repair
Heating System Installation and Repair
Hot Water Heater Installation and Repair
Furnace Installation and Repair
Boiler Installation and Repair
Fix-it 24/7 Rating: 4.8

Jan 23, 2020
Fix-it 24/7 scheduled a yearly furnace tune-up that was accomplished today. As usual they gave me advance notice and kept me informed about when […]
Jan 23, 2020
Not a fan of this format. I'd much prefer speaking glowingly of a job well done over the phone. Bill did a an excellent […]
Jan 13, 2020
Came home from a week out of town to find that our furnace was out. Made a number of calls that advertised "24/7 on […]
Jan 15, 2020
David came today to do a furnace cleaning that was advertised on Tom Martino's radio show. He was punctual, professional and extremely thorough. We […]
Jan 16, 2020
Wayne from Fix It 24/7 fixed leaky water lines under our kitchen sink. He did a great job. He was prompt, courteous and […]
---
Offers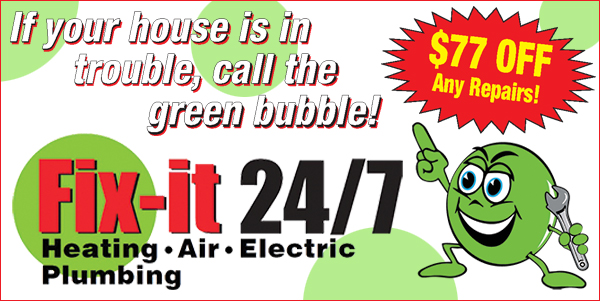 Send to a Friend
Recommend this listing to a friend: