About
IMPORTANT UPDATE:
Done Plumbing and Heating  is committed to our customers' safety now and always. To ensure your health and the health of your family during this time, we are taking some extra precautions. Those include:
Our technicians wear gloves and other protective equipment throughout service appointments
We thoroughly clean iPads and other equipment after every appointment
Some of our staff members are working from home
We've installed UV lights in our office HVAC system to clean the air circulating within our office. This helps capture and kill airborne viruses and bacteria
We are taking additional safety measures for our customers who are over 60 or who have an at-risk condition. Please let our Customer Service Representative know when booking your appointment so we can note that in the job instructions 
More details about the precautions we're taking can be found here: https://itsdone.com/covid-19/
A Denver plumber unlike other Denver plumbers.
Open 7 Days a Week!
Can handle all plumbing, drain cleaning, water heater or HVAC needs
On time or you receive a $25 credit.
No extra charge for weekends or holidays.
Free Estimates on drain cleaning.
Guaranteed Service
Stop the stress.  You won't have to guess how much it will cost, how long it will take, how disruptive it will be to your life….at Done, you can rest assured that it's plumbing done right.
Services Offered:
---
Back Flow Certified
Drain Cleaning
Garbage Disposal
Septic Systems
Sewer
Sump Pump
Done Plumbing, Heating, Cooling, & Electric Rating: 4.7

Apr 26, 2022
Done has been our go-to plumbing and heating service company for years. We found them after another company damaged a portion of our […]
Oct 28, 2022
So initially I was very impressed by the responsiveness of their administrative staff and the ease of setting up appointments but after I had […]
Jul 11, 2022
Dylan was very professional and fixed the problem with no hesitation. He did an excellent job. I would highly recommend him to […]
Oct 25, 2022
I was very happy with Done Plumbing from begining to completion. When we first called, she very friendly and efficient. Followed up with emails. […]
Mar 31, 2023
Thought we had a toilet leak which turned out not to be the case. Called for service early evening and had a plumber (Roscoe)at the […]
---
Offers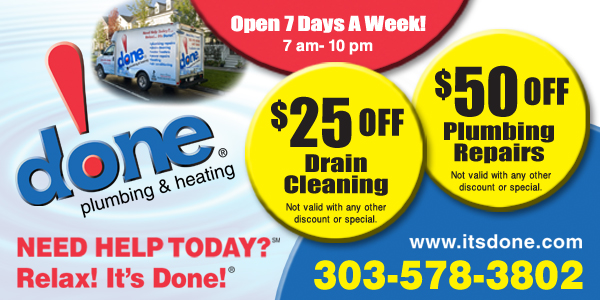 Send to a Friend
Recommend this listing to a friend: