About
A Denver plumber unlike other Denver plumbers.
Open 7 Days a Week!
Can handle all plumbing, drain cleaning, water heater or HVAC needs.
On time or you receive a $25 credit.
No extra charge for weekends or holidays.
Free Estimates on drain cleaning.
Guaranteed Service
Stop the stress.  You won't have to guess how much it will cost, how long it will take, how disruptive it will be to your life….at Done, you can rest assured that it's plumbing done right.
Services Offered:
---
Back Flow Certified
Drain Cleaning
Garbage Disposal
Septic Systems
Sewer
Sump Pump
Done Plumbing, Heating, Cooling, & Electric Rating: 4.7

Sep 18, 2023
Done Plumbing was awesome! Answered my phone call on a Sunday night when our sink wouldn't drain. They were over to the house the […]
Sep 12, 2023
So, we did not have plumbing work completed by this company. They came and gave us an estimate on work we would like to […]
Sep 04, 2023
I needed to have and entire drain line replaced in my house. Done Plumbing offered me the best price, which was 1/3 less than […]
Sep 12, 2023
Darrell was great! He was very helpful, went above and beyond to help with our plumbing needs and explained everything. He was friendly, […]
Sep 13, 2023
We had a guest come in from out of town, and needed emergency help with two toilets. The team sent Neil who showed up […]
---
Offers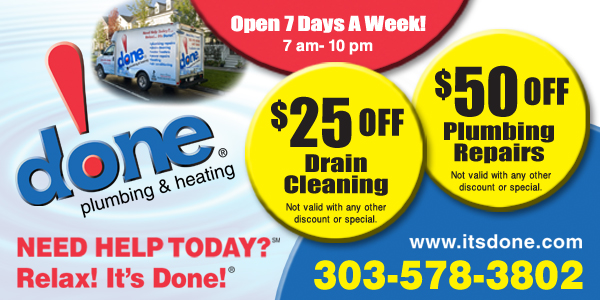 Send to a Friend
Recommend this listing to a friend: