About
IMPORTANT UPDATE:
BR&D Landscape, Inc is committed to our customers' safety now and always. To ensure your health and the health of your family during this time, we are taking some extra precautions. Those include:
Bids can be sent electronically, call for details.
Billing is handled electronically.
Social distancing.  
Following the CDC Guidelines.  
BR&D Landscape, Inc is committed to helping their customers, both residential and commercial,  realize their landscaping plans and dreams by building solutions that create an oasis. It's their belief that they install the best water features and pond structures for their customers. The goal of their pond service division is to provide the top-quality services at an affordable price.
BR&D Landscape, Inc is family owned company since 1999. They rank within in the top two companies in the nation for Master Certified Aquascapes Contractors, winning awards year after year.
If you are looking to build a new water feature, or if you are looking to update an old water feature, or it's times to create a new outdoor living space. Your own oasis, call them today. They would love to help you.
Services Offered:
---
Commercial Pond & Landscaping
Patios & Decks
Trellises
Arbors
Gazebos
Pergolas
Retaining Walls and Terraces
Landscape Lighting
Fire Pits
Fireplaces
B R & D Landscape Inc Rating: 4.5

Nov 05, 2021
Extremely happy with our pond installation. Responsive, highly professional, took the time to do it right .Always on time each day. They take […]
Dec 17, 2019
I have had the pleasure of working with BR&D Landscape Inc, for several years, and they are an extraordinary company. Everyone on their staff […]
Aug 06, 2020
BR&D has been a great company to work with. They helped me get the pond I was looking for. Another contractor started the job, […]
Jan 12, 2019
Pond with waterfall; flow stopped despite good pump. Two workers and office guys figured out the likely problem and solution and fixed it […]
Mar 18, 2020
Beautiful, creative water features. The team at BR&D is amazing to work with. […]
---
Offers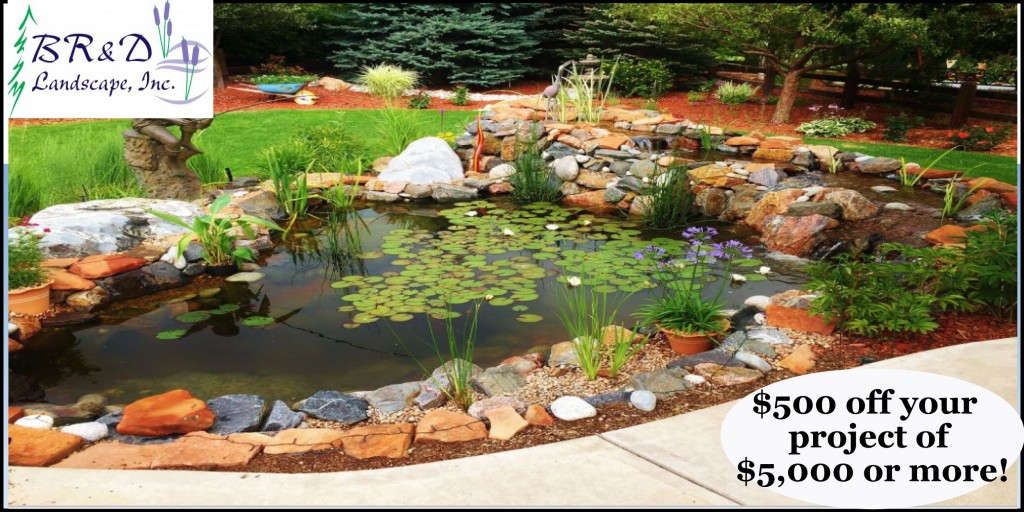 Job Openings
Landscape Laborer
---
Come Join Our Team!  Salary based on experience and potential. Excellent benefits available. Submit resume to info@brdlandscape.com for consideration.
Construction Foreman
---
Looking for the right person to work with Owner of family owned Landscape Construction company that specializes in water features....
Pond Service Technician
---
Come join our team! As a pond service technician, you will be maintaining, repairing, and cleaning natural water features and...
Send to a Friend
Recommend this listing to a friend: