About
As a local, family-owned company, Applewood is especially thankful to the community for supporting them through the years. When you choose Applewood, you're investing in its employees, their families, and the community. Know that you can rely on Applewood's team of licensed professionals to take care of any home comfort issues you may have, as they've been doing for 50 years.
Services Offered:
---
Residential and Commercial Air Conditioning
Central Air
Swamp Coolers
Air Purifiers
Filtration Systems
Heat Pumps
Radiators
Boilers
Condensers
Applewood Plumbing Heating & Electric Rating: 4.7

Feb 10, 2022
Brian was on time, friendly and so helpful!! Great job and will always use Applewood for services! We had a new 240v outlet installed […]
Sep 21, 2021
Our water heater went out suddenly making a mess. We called Applewood Plumbing and they had someone in route within an hour. The technician […]
Jan 29, 2023
Company has a good business model. They present opportunities but aren't pushy. Craig explained things well and did what he promised. […]
Sep 27, 2022
Both times that I've used Applewood, I've been incredibly impressed with the professionalism and friendliness of the technicians. The people setting the appointments on […]
Nov 01, 2022
In the past, I have had great service from Applewood employees, and I expected no less this today. However, today, Milo Sandoval superseded all […]
---
Offers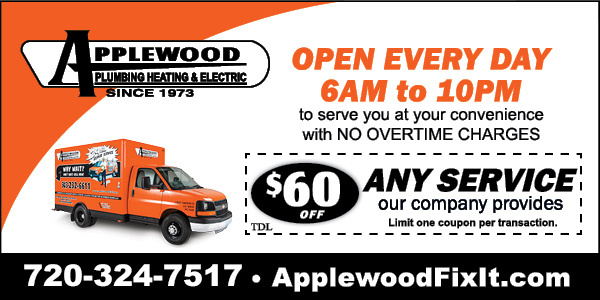 Job Openings
HVAC Technician
---
As a Top Workplace, we hire only the best! Applewood Plumbing Heating & Electric is consistently named one of The...
Send to a Friend
Recommend this listing to a friend: