About
IMPORTANT UPDATE:
Applewood Plumbing Heating & Electric is committed to our customers' safety now and always. To ensure your health and the health of your family during this time, we are taking some extra precautions. Those include:
Wearing gloves
Wearing shoe covers
Safe distancing at all times
Washing hands
Sanitizing tools
We're open to provide essential services to the community. We're here and ready to help keep your life as normal as possible.
Who are you bringing into your home?
Each and Every Applewood service technician has been background checked and drug tested. An email with a picture of the Applewood service pro assigned to your project will be sent to you before your appointment.
Applewood will fix your problem right, the first time, all at a guaranteed price.
They will leave your home as clean, or cleaner, than they found it!
Family owned and operated since 1973.
Proudly servicing the Longmont, Boulder and Denver area. Call Applewood today!
Services Offered:
---
Residential and Commercial Air Conditioning
Central Air
Swamp Coolers
Air Purifiers
Filtration Systems
Heat Pumps
Radiators
Boilers
Condensers
Applewood Plumbing Heating & Electric Rating: 4.7

Sep 25, 2020
Applewood sent Stephen Richardson to our home to do some work on our furnace. He ended up replacing a couple parts. Stephen […]
Sep 20, 2020
Additional services provided by Dan, 9/20/20: photo check of sewer and drainage due to Emergency backup. He was very professional and skilled in evaluating […]
Dec 08, 2020
My husband and I reached out to Applewood once again. This time for multiple plumbing issues. Mr. Chris S., Master Plumber, arrived as scheduled, and […]
Sep 28, 2020
Jeff M. was AMAZING. First Class, First Rate! He was friendly, knowledgeable, professional and a great representation of Applewood P,H &E. We really appreciated his […]
Oct 21, 2020
Using Applewood was very easy and absolutely worth it. I was recommended by a family member to use Brian Bach for some electrical […]
---
Offers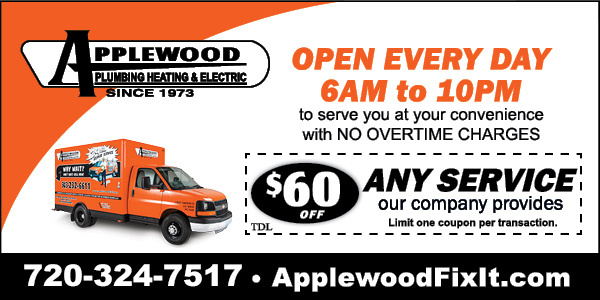 Job Openings
HVAC Technician
---
As a Top Workplace, we hire only the best! Applewood Plumbing Heating & Electric is consistently named one of The...
Send to a Friend
Recommend this listing to a friend: