About
All Pro Restoration is family owned and operated and caters to the local metro communities.  Their philosophy is that no job is too small and no customer insignificant.  They welcome any job, large or small, commercial or residential.  They promise to treat your home or business as though it was their own.
So Why choose All Pro Restoration?  Their mission is Honesty, Integrity, Knowledge, Teamwork, Perseverance, Emergency, Serving, and Insurance.  All members of their team are trained technicians so you know the quality of work will meet or exceed your standards.  Call All Pro Restoration today and experience the difference in restoration services.
Services Offered:
---
24-Hour Emergency Service
Disaster Cleaning – Water Damage and Fire
Lead Paint Removal
Mold Removal – Restoration Cleaning
Odor Cleaning
Water and Fire Restoration
Duct Cleaning
All Pro Restoration - Water Damage in Aurora and Denver Rating: 4.9
Oct 02, 2018
I have had two occurrences this year where water has found its way into my basement. From the office staff to the […]
Oct 11, 2018
Anthony and his team were really awesome, very supportive and competent. Victor and his twin brother even suported us on for emergency reason on […]
Sep 16, 2018
I was upset when the water damage occurred at my house. Didn't believe there was an issue, and wasn't happy with the work […]
Sep 28, 2018
I have had the pleasure of working with Jessica and the All Pro team on a professional level and have had an extremely positive […]
Aug 21, 2018
Victor didi a great job getting here quickly and locating the leak, which was behind dry wall. Wet Drywall and Insulation was […]
---
Offers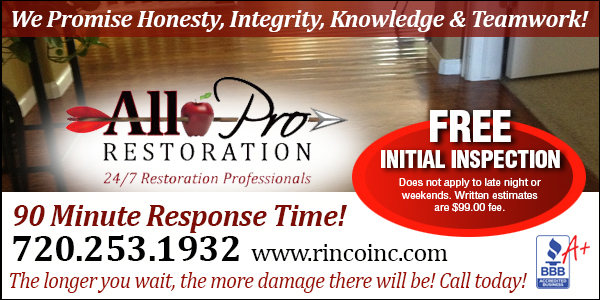 Job Openings
Technician
---
We are looking for a hard-working person that is looking for honest, but strenuous work. We are offering a water/fire/mold...
Send to a Friend
Recommend this listing to a friend: