About
All Pro Restoration is family owned and operated and caters to the local metro communities.  Their philosophy is that no job is too small and no customer insignificant.  They welcome any job, large or small, commercial or residential.  They promise to treat your home or business as though it was their own.
So why choose All Pro Restoration?  Their mission is Honesty, Integrity, Knowledge, Teamwork, Perseverance, Emergency, Serving, and Insurance.  All members of their team are trained technicians so you know the quality of work will meet or exceed your standards.  Call All Pro Restoration today and experience the difference in restoration services.
Services Offered:
---
24-Hour Emergency Service
Disaster Cleaning – Water Damage and Fire
Lead Paint Removal
Mold Removal – Restoration Cleaning
Odor Cleaning
Water and Fire Restoration
Duct Cleaning
Content Cleaning
Pack Out Services
All Pro Restoration Water, Smoke, Mold Damage & Cleanup Rating: 4.7

Mar 16, 2022
I am a Realtor and had Buyers moving into a home they purchased. The home was in need of an extremely deep clean, so […]
Apr 15, 2022
I have worked with All Pro on many projects using them for contents cleaning, storage and pack outs after fires. They always gave an […]
Mar 21, 2022
We called All Pro Restoration for a COVID cleaning early last year and they responded the same day which was a Saturday. Were […]
Mar 22, 2022
When I was a plumber and drain technician; if the call warranted it and I had permission of my customer, I would always call […]
Jun 13, 2022
My sewer line backed up. I was frustrated because our newly finished basement was now ruined and stunk really bad. I called All Pro […]
---
Offers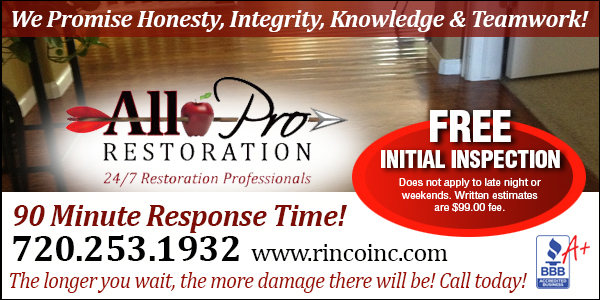 Job Openings
Lead Field Technician
---
Come join our team! We are looking for a hard working person that is looking for honest, but hard work....
Send to a Friend
Recommend this listing to a friend: