About
IMPORTANT UPDATE:
Advanced Exteriors is committed to our customers' safety now and always. To ensure your health and the health of your family during this time, we are taking some extra precautions. Those include: 
Quotes can be sent, via email.  
Most jobs can be done with no contact from the homeowner and their families.
We practice social distancing.
We are following the CDC guidelines.    
Why Choose Advanced Exteriors
As a complete exterior restoration contractor providing a variety of exterior services for residential and commercial projects, the Advanced Exteriors, Inc. team recognizes they are not only in the construction industry, but in the people business. For them, a new customer means the beginning of a relationship, which does not end upon payment of the account. They are proud to say that most of their new clients have developed from a referral.  They strive to continue earning those recommendations by providing quality service to their customers.
Advanced Exteriors, Inc. was founded by experienced industry professionals to provide solutions to problems within the industry that were not addressed by other contractors. Tired of saying "there has to be a better way of doing this" their team has worked since 2006 to provide the better way. They are very selective in their hiring processes and require a commitment to ongoing training and improvement from every employee, including Haag Engineering Inspection training for each Project Manager.
At Advanced Exteriors they take pride in their efforts to offer their customers ease in their repairs, friendly customer service and knowledgeable staff. To learn about them, their impact in the community, and their certifications, please feel free to visit their website or give them a call.
See what customers have to say on Facebook: https://www.facebook.com/AdvancedExteriors
Services Offered:
---
Roofing
Insurance Claim Specialist
Free Inspections
Gutters
Siding
Painting
Windows
Insulation
Offers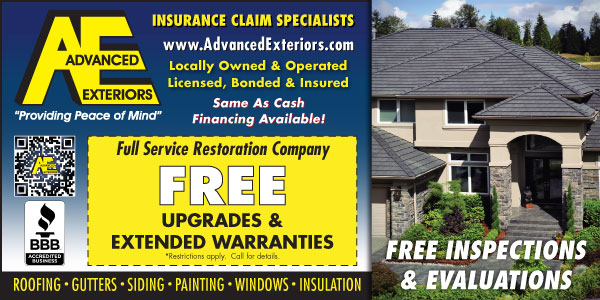 Send to a Friend
Recommend this listing to a friend: