Hardscape refers to the non-living elements in landscaping, such as patios, outdoor kitchens, fire pits, and water features. When you incorporate hardscaping into your landscape design, you can enhance the natural features of your yard. Here are some hardscaping elements that you and your family will enjoy for years to come.
Patios
Being outdoors is a great way to refresh and unwind. By building a patio (or by extending the one you already have), you'll create more livable space where you can lounge, enjoy a cool drink, and take in the fresh Colorado air. But, adding a patio isn't a simple task, so be sure to work with a trusted Team Dave Logan professional who understands how to best utilize your space.
Outdoor Kitchens
If you really want an outside space that sizzles, consider adding an outdoor kitchen! There's nothing quite like cooking and eating a meal outside when the weather is nice and the sun is shining. From grills to pizza ovens to food prep and storage areas, there's a lot that goes into an outdoor kitchen, which is why you'll want to chat with an experienced Team Dave Logan professional about building your dream outdoor cooking area.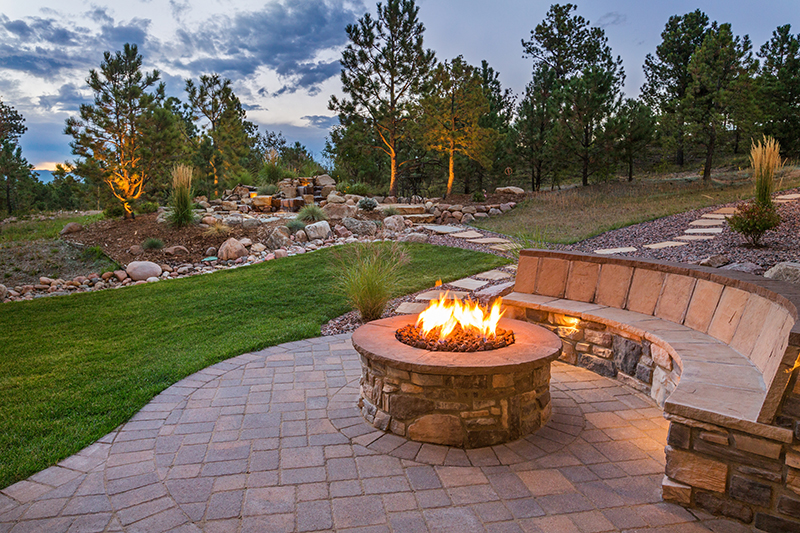 Fire Pits
Fire pits are a fun addition to any home, allowing you to enjoy the beautiful Colorado evenings and discover s'more ways to connect with your family outdoors. Whether you opt to put your fire pit out in the yard or have it installed on your patio, it's important to work with a Team Dave Logan fire pit installer who understands how to build your fire pit safely.
Water Features
Incorporating a water feature into your backyard is a great way to bring in another natural element that promotes relaxation and calmness. But adding a fountain or pond can be more difficult than you may think. Turn to a Team Dave Logan expert who can help you decide which water feature will work best for your space.
No matter what your hardscaping needs are, trust Team Dave Logan to connect you with a pro who can help you build the outdoor oasis of your dreams!