With the hustle and bustle of the holidays behind us, you may find that you have some down time to focus on other things, like your home. Here are some projects that may be perfect to work on while you're tucked away inside, avoiding the harsh winter weather.
Light Fixtures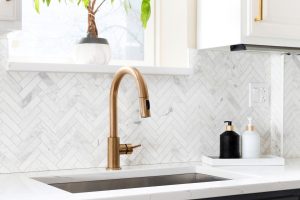 Late sunrises, early sunsets, and cloudy days are all characteristic of Colorado's winter months. And with fewer hours of sunlight, the days can feel dark and gloomy. Give yourself (and your home) a mood boost by switching out old lighting with new fixtures that will improve illumination and update your home's aesthetic. Not sure you can handle the lighting swaps on your own? Hire a trusted Team Dave Logan electrician or handyman for worry-free installation.
Carpets and Floors
Carpets and floors take a serious beating over time and especially during the winter, when guests, family members, and pets track in snow and mud. Luckily, there are options to restore your floors to their former glory. If your carpet is buckling, matted, or torn, it may be time to consider carpet replacement or repair. If your carpet is soiled or stained, a skilled carpet cleaner should be able to address those issues. Or, if you're ready for a whole new flooring solution, like hardwood, tile, or luxury vinyl plank, you can contact one of our expert flooring specialists!
Bathroom and Kitchen Upgrades
Small projects can sometimes have big impact, particularly in bathrooms and kitchens. Switching out cabinet hardware or faucets can refresh a space without requiring a full overhaul. And if you're willing to go a step further, you can add visual interest and character to a space by updating countertops, integrating an interesting tile feature, like a new kitchen backsplash, or converting an old, dingy bathtub to a beautiful spa-like shower.
Don't let the dreariness of winter get you down! Hire a Team Dave Logan contractor to execute one of these satisfying home projects that will elevate your home and bring you joy.