By staying on top of your home's maintenance, you can keep your home looking great, prevent breakdowns, and save money. The end of the year is a great time to work through this home maintenance checklist and schedule any necessary repairs.
1.   Check your home's exterior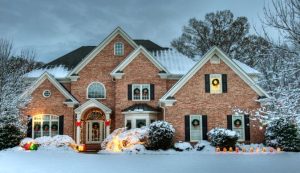 Your home's exterior is the first line of defense against the elements, so it's important to pay attention to any issues that may have developed over the past year. Some exterior issues, like sagging gutters or broken windows, may be immediately noticeable to you, but not all damage can be seen with the naked eye. When checking on your home's exterior, here are some key areas to focus on: siding, windows, roof, and gutters. While you can inspect some of these areas on your own, we recommend working with a trusted siding, windows, roof, or gutter pro to fully assess the condition of your home's exterior.
2.   Tune-up your HVAC system
Right now, in the colder months, it's critical that your furnace is able to keep up with the heating demands of your home. Wouldn't it be terrible if your furnace went out while the weather is biting cold? Having a technician look at your furnace, especially if it's been a while since it's been serviced, is a great way to prevent any unwanted surprises. Additionally, having an HVAC specialist take a look at your A/C unit, as well, can help you sail smoothly into summer without any hiccups.
3.   Talk with a plumber
Plumbing emergencies can be frustrating and downright disgusting. If you've noticed low water pressure, drains that drain slowly, bubbling or overflowing toilets, dripping faucets, or a sewage smell, don't wait to contact a plumber. An experienced plumber will be able to assess your problems and get them fixed before they become catastrophic.
4.   Make sure your home's electrical system is performing well
Having your home's electrical system inspected may not always be top of mind, but it is an important part of home maintenance. Here are some reasons why you may want to contact a Team Dave Logan electrician to look at your system:
·      Your home is more than 25 years old.
·      You notice sparks or get shocked when you plug something into your outlets.
·      Your circuit breaker trips frequently.
·      Light bulbs flicker or burn out too often.