Give your business a competitive edge!
Contact us TODAY to learn about exclusive advertising opportunities!
Call 720-737-5834 or fill out the form below
You Are the Company You Keep
Join Colorado's Trusted Team of Vetted Home Service Professionals
Have you ever heard the saying, "You are the company you keep?" When you're selected to become a member of Team Dave Logan, you'll join the ranks of trusted businesses dedicated to providing the best service, backed by integrity and quality.
At Team Dave Logan, we can help amplify your reach - and amplify your trust – through exclusive advertising opportunities and membership. Discerning homeowners know that we've assembled a winning lineup of vetted pros, and that's why they turn to us when they need someone they can trust in their home.
Align your brand with Team Dave Logan, and connect with consumers looking for exactly what you offer – unmatched local expertise and top-rated service.
---
Reach 1.4 Million Homeowners
with Exclusive Advertising Opportunities
Where do the most trusted home improvement pros advertise?
The answer: Team Dave Logan's Playbook and Resource Guide.
Why?
Our print publications reach 1.4 million homeowners per year, connecting you to qualified consumers you might not be able to reach on your own.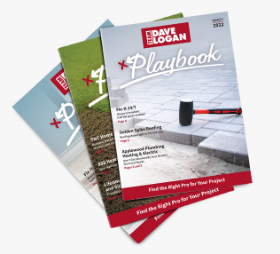 Playbook
Co-branding with Team Dave Logan through Playbook allows you to leverage your marketing dollars while showcasing your home improvement business through trusted advertising that reaches sought-after consumers five times per year!
Advantages of Playbook Advertising:
This co-branded advertising opportunity offers more credibility for your business and positions you as a reputable, trusted company.
Each edition of Playbook is delivered to 150,000+ homes with an average value of $670K and with an average household income of $150K. There's no better way to reach your target market!
Playbook is distributed in March, May, July, September, and November, allowing you to reach consumers consistently throughout the year and capitalize on seasonal offerings.
There's still time to participate in this year's Playbooks …don't miss out!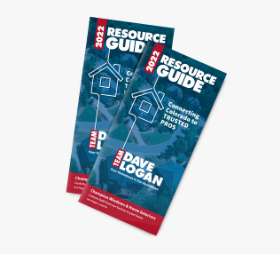 Resource Guide
Advertise in Team Dave Logan's annual publication, Resource Guide, and you'll reach your target audience of affluent homeowners with a high-impact magazine that is both trusted and valued by consumers.
Advantages of Resource Guide Advertising:
Our Resource Guide is sent to 625,000 homes with an average value of $658K and with an average household income of $126K.
This publication is sent in staggered phases from February to October, so you'll have steady, continued visibility with consumers.
You can reach 625,000 homeowners for as low as $0.003 per piece – a fraction of the cost of doing a direct mail campaign on your own.
The Resource Guide has a long shelf life, and consumers hang onto it for years. Whether a consumer needs a service provider now, or a few months down the road, your business will be at their fingertips when they're ready to make a call.
2022 Resource Guide is being distributed now. Set your company up for success by reserving your spot in our 2023 Resource Guide!
---
Get Your Business Noticed
as a Member of Team Dave Logan
Only the most reputable companies are selected to be on our team and experience the advantages of membership.
As a member of Team Dave Logan, you'll benefit from Dave Logan's community recognition and partner with a network of companies that Coloradans know they can trust to be quality, vetted pros.
Team membership also allows you to tap into a range of resources that will help you grow your business through reputation enhancement, digital and social presence options, access to exclusive advertising opportunities, and brand awareness campaigns.
We'll work with you to cut through the clutter of the crowded marketing landscape and design a plan that works for you!
What Else Does Team Dave Logan Do to Increase Your Visibility?
We participate in these proven advertising avenues to drive consumers to you:
Well-planned digital advertising that reaches consumers at the moment they're looking for a home service pro
Radio advertising that highlights the advantages of hiring a Team Dave Logan member, featuring Colorado's most recognizable voice: Dave Logan
Engaging social media marketing
Email marketing to thousands of consumers who have opted-in to receive our offers and news
In-person marketing to consumers through well-established events, such as the Colorado Garden and Home Show

BOOST YOUR BUSINESS
It's time to take your business to the next level!
Co-branding with Team Dave Logan through trusted advertising is exactly the way to do that!
Call:
720-737-5834