About
Mahnke Auto Body has earned its ranking as a Preferred Vendor with the nation's largest insurance companies by consistently producing high quality collision repairs, excellent customer service, and accountability. For over forty years, the Mahnke family has owned and operated Mahnke Auto Body. Mahnke's well deserved reputation is due to continuous investments in training and technology. Mahnke's Arvada shop was chosen "Business of the Year" in 2010 by the Arvada Chamber of Commerce.
Mahnke repairs all vehicles to original manufacturers' specifications. Other services offered are glass replacement and Paintless Dent Repair (PDR). Mahnke gives a limited Lifetime Warranty on all work.
Need a car rental? No problem. With prior arrangement, rental companies deliver the vehicle directly to the customer at the Mahnke shop.
There are four Mahnke locations ready to serve you in the Denver Metro Area: Arvada, Brighton, Frederick, and Golden.
Services Offered:
---
Collision Repair
Auto Frame Repair
Bumper Repair
Auto Body Paint
Hail Damage Repair
Dent Repair
Mahnke Auto Body Rating: 4.3

Jan 30, 2019
So far the service has been top notch, staff is helpful, friendly and knowledgeable. Their expertise gave me piece of mind. I will […]
Mar 29, 2019
Did not have room for my accident repairs but otherwise we'll working shop. Small but productive, is go back! […]
Oct 18, 2018
So happy with the wonderful service! My new Lexus NX was damaged during the bad hailstorm this summer. Mahnke was referred to us by […]
Jul 26, 2018
Estimate appointments are 4-6 weeks out. Just as an FYI. I know work has to be scheduled pretty far out, but I've never heard […]
May 22, 2018
I would recommend using this shop. My car was involved in a hit and run. When I got my car back I was so […]
---
Offers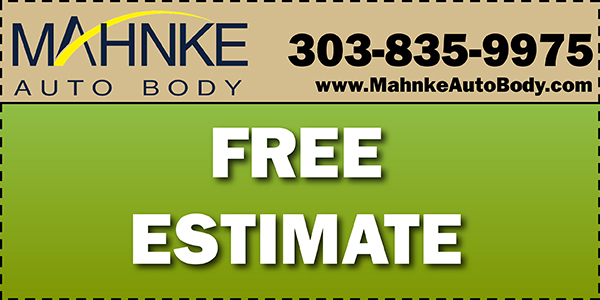 Send to a Friend
Recommend this listing to a friend: