About
Jenesis Roofing is a woman owned, locally owned and operated company and has been in the Denver metro area since 1999. They take pride in every project from a small repair to a custom designed home.
Jenesis can also replace gutter systems or install gutter guards to protect against clogged downspouts. Thank you for the opportunity to protect and beautify your home with outstanding products and service.
Jenesis Roofing stands above the rest.
Services Offered:
---
Composition Asphalt Shingles
Cedar Shakes
Metal Roofing
Concrete Tile
Roof Repairs
Jenesis Roofing Inc. Rating: 4.7
Oct 09, 2018
I met with several roofing contractors after our roof was hit by hail. Most failed to impress me. There were lots of promises & […]
Jun 21, 2018
Having had severe damage from hail several years ago we decided to pull the trigger on a new hail resistant roof. Jenni and her […]
Mar 20, 2018
Jenesis Roofing did our roof after the hail storm a couple of years ago. I wanted to do a review now because the […]
Nov 21, 2017
Roof replacement is an investment to your home, its an expensive improvement therefore selecting the right company is critical. I selected Jenesis […]
Nov 01, 2017
We work with Jenesis roofing on many projects. As an electrical contractor, we install electrical to attic exhaust fans and de-icing cable. Jenesis is […]
---
Offers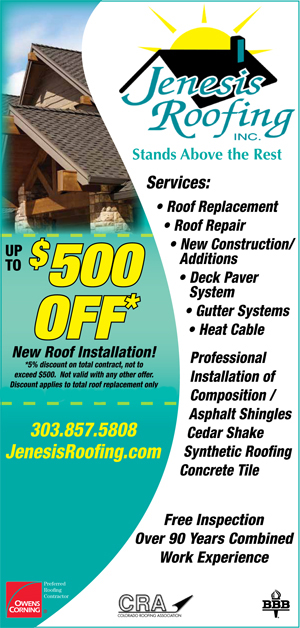 Job Openings
Roofing Estimator
---
Jenesis is looking for a roofing estimator that will represent Jenesis Roofing in a professional manner. Must have at least...
Send to a Friend
Recommend this listing to a friend: