About
For Quality and Value, Choose Hand Brush & Roll, The Superior Method. All painters are employees – no sub-contractors. Protect – Cover up and masking – use of only clean plastic to cover furniture and canvasses for your floors. Prepare – meticulously fill holes and cracks matching existing texture, clean dirty surfaces, and lightly sand trim surfaces. Strict attention to detail from initial consultation to final cleanup. Free estimates, fully insured. Quality work guarantee – you pay when you are 100% satisfied with our work. Available to assist with color choices and offer the latest techniques and the best products available.
Cline Quality Painting has been a residential painting contractor in Colorado for over 25 years providing both exterior and interior painting services. Quality and customer service are their #1 priority elevating them into a league of their own.
Cline Quality Painting is one of the very few painting contractors that protects your home with durable, long-lasting painting products and hand brush and roll workmanship to ensure the longevity of paint in your home, protecting your investment for years to come.
Services Offered:
---
Interior Painting
Exterior Painting
Cline Quality Painting Rating: 4.7

Apr 13, 2022
Excellent knowledge of painting and the products used. The Crew was on time and did an outstanding job on the house and made no […]
Jun 09, 2022
I recently hired Cline Quality painting to paint the exterior of my house. From start to finish, the job was truly a Quality experience. […]
Apr 05, 2022
Cline did a beautiful job painting the exterior of our home. We couldn't be happier. They were extremely communicative about weather and schedule, […]
Mar 30, 2022
When you interview Cline Quality Painting, you don't speak with a sales rep.; you speak directly with the owner, Ernest Cline. Mr. Cline […]
Aug 23, 2022
Ernest Cline and crew did an EXCELLENT job on our home, rolling a quality paint product! They finished the entire house in 1 […]
---
Offers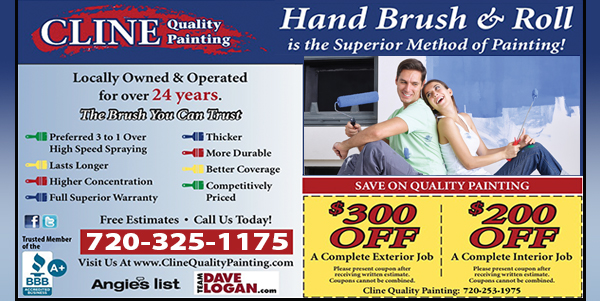 Send to a Friend
Recommend this listing to a friend: