About
Two Convenient Locations:
780 W 84th Ave Thornton, CO 80260
3485 S. Zuni St. Englewood, CO 80110
A-Affordable Transmission is a transmission repair specialist. A expert level, local transmission rebuild specialist, aimed to provide the highest level of customer satisfaction.  They deliver quality rebuilt transmission services, with pricing, customer service and workmanship second to none. They always perform the transmission inspection on the vehicle at no charge. Written transmission estimates and up front transmission pricing are provided before any work is performed. Never a hassle or obligation if transmission repairs are not performed. All rebuilt transmissions are done in house, the transmission overhaul is performed on your original transmission. PRIDE in their work. QUICK, CLEAN, HONEST. THEY SERVICE ALL MAKES AND MODELS, DOMESTIC AND IMPORT
They re-use the good transmission parts and only replace what is needed. These procedures directly provide the customer with big savings on transmission rebuild cost compared to a sub-contractor replacing transmissions with an exchange transmission likely purchased and marked up from an out of state transmission remanufacture. Transmissions, Transfer Case, Clutch and Differentials is all they have done for life. You will never see their specialists working on anything other than Transmissions, Transfer Cases, Clutches and Differentials. At A-Affordable Transmission they practice what they know and don't pretend to be something they're not. In business since 1979 you can rest assure they will be here for you if a transmission problem should occur. They are the Transmission Experts you can count on. Always a friendly transmission mechanic and professional transmission mechanic, give them a call now for a no hassle, no obligation insight on your transmission repair needs.
Services Offered:
---
Transmission (Rebuild, repair, Overhaul)
Transfer Case
Clutch
Automatic Transmission
Manual Transmission
Differential Needs
A-Affordable Transmissions Center Rating: 4.8

Dec 05, 2020
These guys are great! Very reasonable prices, clear explanation of work needed/done, and quick turn around time. I had my van back in 3 […]
Oct 29, 2020
Take your car here. If you have any transmission, or gearbox issues this is the absolute best transmission shop you will find in Denver. […]
Oct 15, 2020
Great customer service. Great work. Great price. Guy at the front was super knowledgeable and explained everything to me in detail when I picked […]
Feb 19, 2020
This shop is one of the best and one of the most honest shops I have ever delt with. If or when I have […]
Aug 11, 2020
Devin was great to work with and did a wonderful job with keeping me updated on the progress. Not only that, but I was […]
---
Offers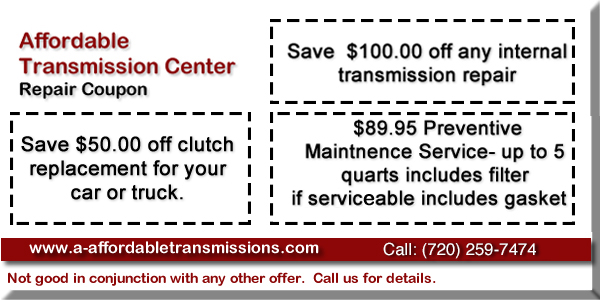 Send to a Friend
Recommend this listing to a friend: